My research involves the application of novel analysis methods to astronomical data. The main focus is time series analysis of light curves from accreting compact objects (black holes and neutron stars), where the goal is to understand gravity in the strong field regime, extreme physics and the role these objects play in shaping the universe. In particular, I use X-ray reverberation mapping and quasi-periodic oscillations (QPOs) to study matter spiralling in the inner accretion flow around a black hole. I am currently working on neural network methods to find important signals in the presence of red noise.
News and Press Releases
I've recently hired a graduate to work with me on machine learning applicatiosn to black hole data:
ESA Young Graduate Trainee See advert description here.
Formation of a black hole or neutron star seen for the first time in "The Cow"

Nature Astronomy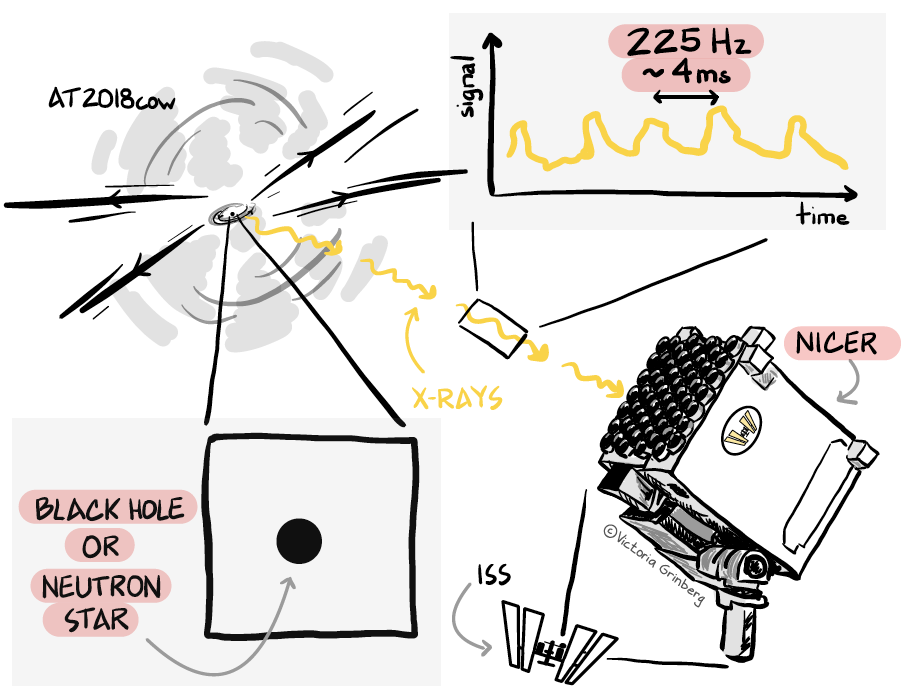 Image Credit: Doodle by Victoria Grinberg (ESA)
Unraveling the inner accretion cone of the microquasar, SS433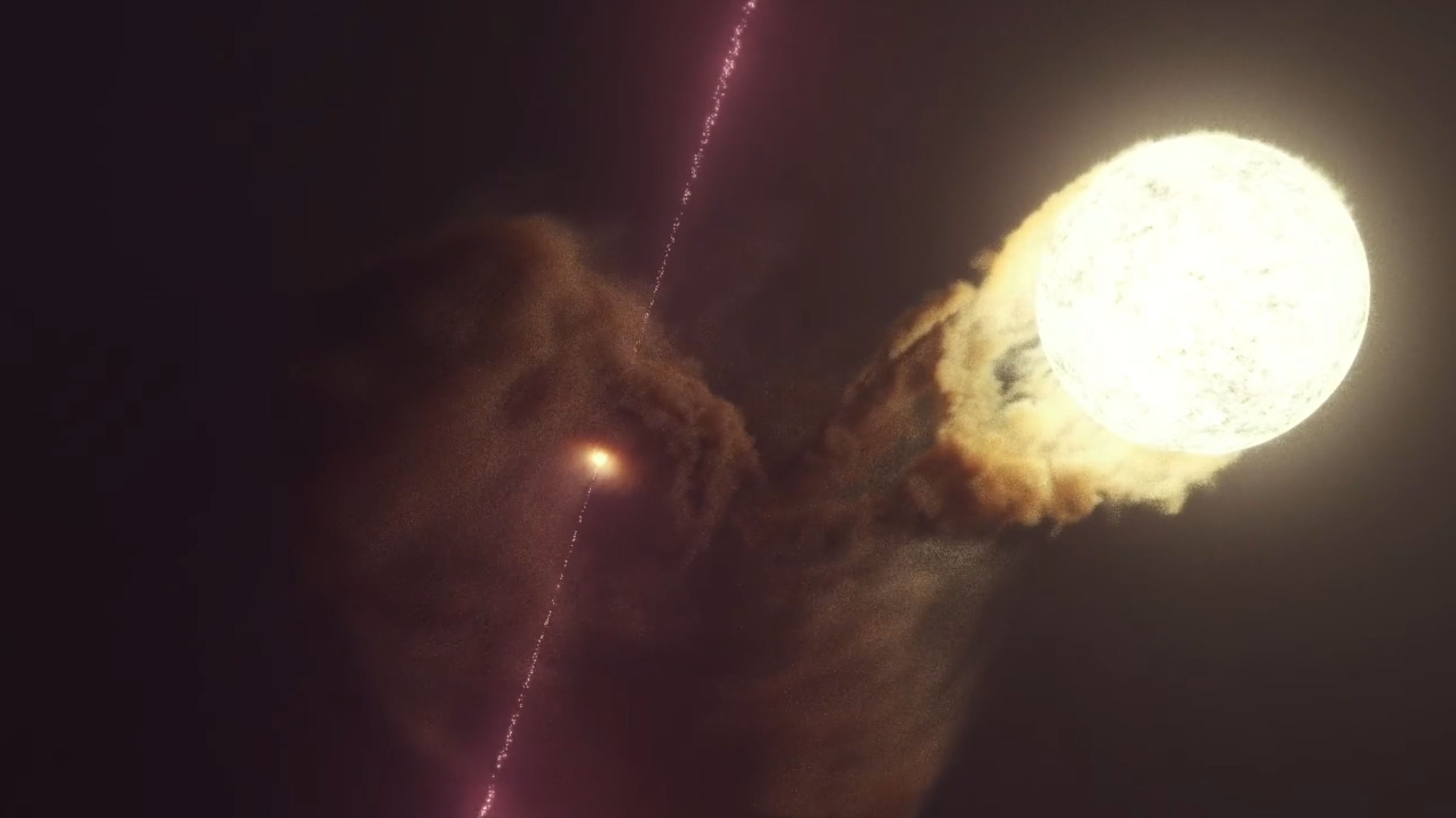 Image Credit: NASA/JPL
X-ray reverberation paper reveals a dynamic black hole corona

Nature Astronomy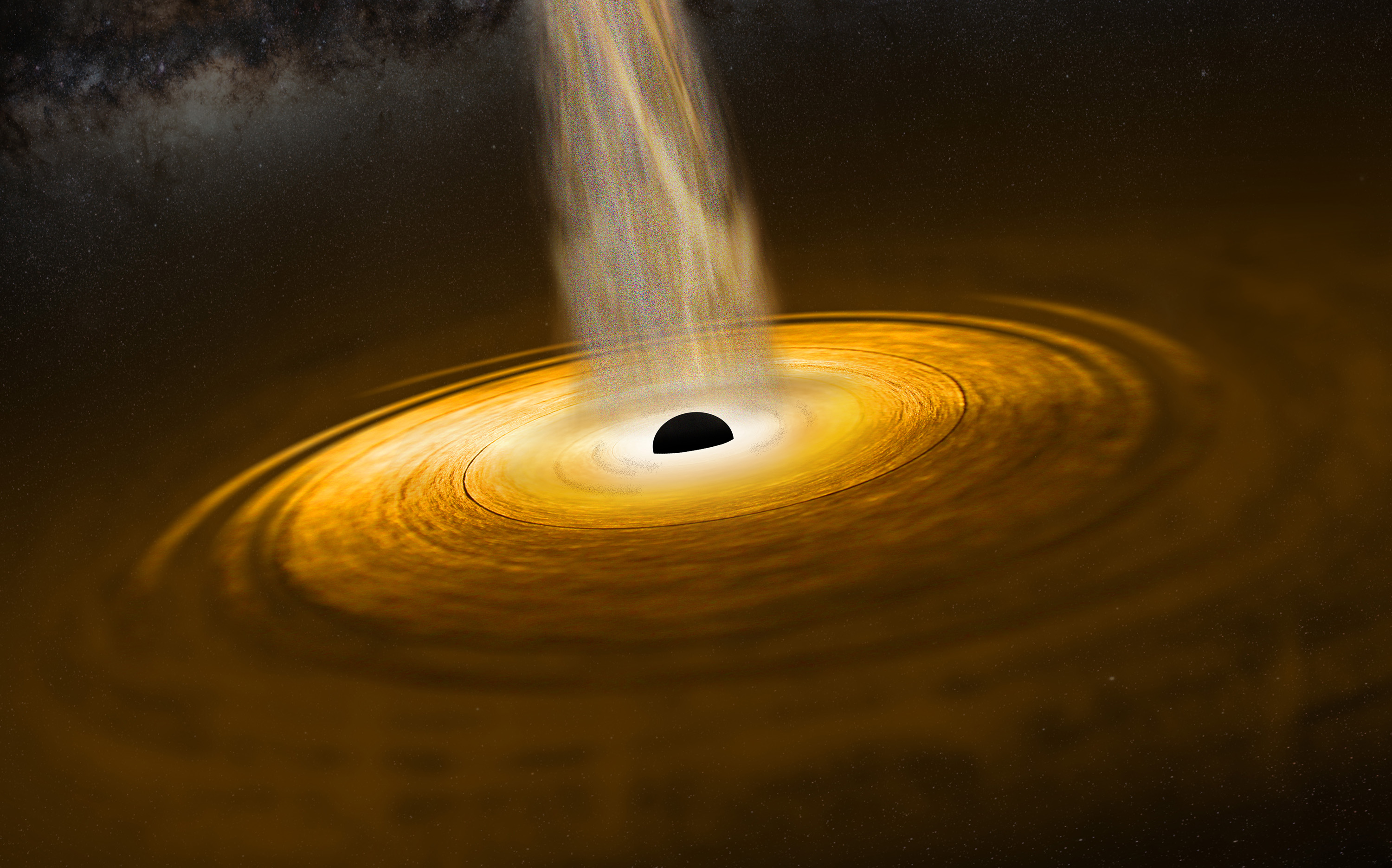 Image Credit: ESA
Winner of UK homebrewer of the year, 2015
Lewin, Kara, Wilkins, Mastroserio, García, Zhang, Alston, Connors, Dauser, Fabian, Ingram, Jiang, Lohfink, Lucchini, Reynolds, Tombesi, van der Klis, Wang, 2022, ApJ, in press
Jiang, Dauser, Fabian, Alston, Gallo, Parker, Reynolds, 2022, MNRAS, 514, 1107
Mallick, Fabian, García, Tomsick, Parker, Dauser, Wilkins, De Marco, Steiner, Connors, Mastroserio, Markowitz, Pinto, Alston, Lohfink, Gandhi 2022, MNRAS, 513, 4361
Xu, Pinto, Kara, Masterson, García, Fabian, Parker, Barret, Alston, Cusumano 2022, MNRAS, 513, 1910
Dheeraj R. Pasham, Wynn C. G. Ho, William Alston, Ronald Remillard, Mason Ng, Keith Gendreau, Brian D. Metzger, Diego Altamirano, Deepto Chakrabarty, Andrew Fabian, Jon Miller, Peter Bult, Zaven Arzoumanian, James F. Steiner, Tod Strohmayer, Francesco Tombesi, Jeroen Homan, Edward M. Cackett, Alice Harding 2022, Nat.As 6, 249
Parker, Alston, Härer, Igo, Joyce, Buisson, Chainakun, Fabian, Jiang, Kosec, Matzeu, Pinto, Xu, Zaidouni 2021, MNRAS, 508, 1798
D'Aì, Pinto, Del Santo, Pintore, Soria, Robba, Ambrosi, Alston, Barret, Fabian, Fürst, Kara, Kosec, Middleton, Roberts, Rodriguez-Castillo, Walton 2021, MNRAS, 507, 5567
Middleton, Walton, Alston, Dauser, Eikenberry, Jiang, Fabian, Fuerst, Brightman, Marshall, Parker, Pinto, Harrison, Bachetti, Altamirano, Bird, Perez, Miller-Jones, Charles, Boggs, Christensen, Craig, Forster, Grefenstette, Hailey, Madsen, Stern, Zhang 2021, MNRAS, 506, 1045

Alston

, Pinto, Barret, D'Ai, Del Santo, Earnshaw, Fabian, Fuerst, Kara, Kosec, Middleton, Parker, Pintore, Robba, Roberts, Sathyaprakash, Walton, Ambrosi 2021, MNRAS, 505, 3722
Pinto, Soria, Walton, D'Ai, Pintore, Kosec, Alston, Fuerst, Middleton, Roberts, Del Santo, Barret, Ambrosi, Robba, Earnshaw, Fabian 2021, MNRAS, 505, 5058
Walton, Baloković, Fabian, Gallo, Koss, Nardini, Reynolds, Ricci, Stern, Alston, Dauser, García, Kosec, Reynolds, Harrison, Miller 2021, MNRAS, 505, 1557
Robba, Pinto, Walton, Soria, Kosec, Pintore, Roberts, Alston, Middleton, Cusumano, Earnshaw, Fuerst, Sathyaprakash, Kyritsis, Fabian 2021, A&ampA, 652, 118
Griffiths, Jiang, Buisson, Wilkins, Gallo, Ingram, Lee, Grupe, Kara, Parker, Alston, Bourached, Cann, Young, Komossa 2020, ApJ, 914, 144
Mallick, Wilkins, Alston, Markowitz, De Marco, Parker, Lohfink, Stalin 2020, MNRAS, 503, 3775
Härer, Parker, Joyce, Igo, Alston, Fürst, Lobban, Matzeu, Reeves 2020, MNRAS, 500, 4506
Walton, Alston, Kosec, Fabian, Gallo, Garcia, Miller, Nardini, Reynolds, Ricci, Stern, Dauser, Harrison, Reynolds 2020, MNRAS, 499, 1480
Parker, Matzeu, Alston, Fabian, Lobban, Miniutti, Pinto, Santos-Lleó, Schartel, 2020, MNRAS, 498, 140
Matzeu, Nardini, Parker, Reeves, Braito, Porquet, Middei, Kammoun, Lusso, Alston, Giustini, Lobban, Joyce, Igo, Ebrero, Ballo, Santos-Lleó, Schartel 2020, MNRAS 497, 2352
Gonzalez, Gallo, Kosec, Fabian, Alston, Berton & Wilkins, 2020, MNRAS, 496, 3708

Alston

, Fabian, Kara, Parker, Dovciak, Pinto, Jiang, Middleton, Miniutti, Walton, Wilkins, Buisson, Caballero-Garcia, Cackett, De Marco, Gallo, Lohfink, Reynolds, Uttley, Young & Zogbhi, 2020, Nature Astronomy, 4, 597-602
Fabian, Reynolds, Jiang, Pinto, Gallo, Parker, Lasenby, Alston, Buisson, Cackett, De Marco, Garcia, Kara, Kosec, Middleton, Miller, Miniutti, Walton, Wilkins, Young, 2020, MNRAS, 493, 2518
Igo, Parker, Matzeu, Alston, Alvarez Crespo, Buisson, Fürst, Joyce, Mallick, Schartel, Santos-Lleó, 2020, MNRAS, 493, 1088
Parker, Alston, Igo & Fabian 2020, MNRAS, 492, 1363
Walton, Pinto, Nowak, Bachetti, Sathyaprakash, Kara, Roberts, Soria, Brightman, Canizares, Earnshaw, Fürst, Heida, Middleton, Stern, Tao, Webb, Alston, Barret, Fabian, Harrison, Kosec, 2020, MNRAS, 494, 6012
Pinto, Walton, Kara, Parker, Soria, Kosec, Middleton, Alston, Fabian, Guainazzi, Roberts, Fuerst, Earnshaw, Sathyaprakash & Barret, 2020, MNRAS, 492, 4646
Kara, Pinto, Walton, Alston, Bachetti, Barret, Brightman, Canizares, Earnshaw, Fabian, Furst, Kosec, Middleton, Roberts, Soria, Tao & Webb, 2020, MNRAS, 491, 5172
Sathyaprakash, Roberts, Walton, Fuerst, Bachetti, Pinto,
Alston, Earnshaw, Fabian, Middleton & Soria, 2019, MNRAS, 488, 35

Alston

, 2019, MNRAS, 485, 260

Alston

, Fabian, Buisson, Kara, Parker, Lohfink, Uttley, Wilkins, Pinto, De Marco, Cackett, Middleton, Walton, Reynolds, Jiang, Gallo, Zogbhi, Miniutti, Dovciak & Young, 2019, MNRAS, 482, 2088
Mallick, Alston, Parker, Fabian, Pinto, Dewangan, Markowitz, Gandhi, Kembhavi & Misra, 2018, MNRAS, 479, 615
Jiang, Parker, Fabian, Alston, Buisson, Cackett, Chiang, Dauser, Gallo, García, Harrison, Lohfink, De Marco, Kara, Miller, Miniutti, Pinto, Walton & Wilkins, 2018, MNRAS, 477, 3711
Pinto, Alston, Parker, Fabian, Gallo, Buisson, Walton, Kara, Jiang, Lohfink & Reynolds, 2018, MNRAS, 476, 1021
Buisson, Lohfink, Alston, Cackett, Chiang, Dauser, De Marco, Fabian, Gallo, García, Jiang, Kara, Middleton, Miniutti, Parker, Pinto, Uttley, Walton & Wilkins, 2018, MNRAS, 475, 2306
Parker, Alston, Buisson, Fabian, Jiang, Kara, Lohfink, Pinto & Reynolds, 2017, MNRAS, 469, 1553
Parker, Pinto, Fabian, Lohfink, Buisson, Alston, Kara, Cackett, Chiang, Dauser, De Marco, Gallo, Garcia, Harrison, King, Middleton, Miller, Miniutti, Reynolds, Uttley, Vasudevan, Walton, Wilkins & Zoghbi, 2017, Nature, 543, 83
Pinto, Alston, Soria, Middleton, Walton, Sutton, Fabian, Earnshaw, Urquhart, Kara & Roberts, 2017, MNRAS, 468, 2865
Fabian, Alston, Cackett, Kara, Uttley & Wilkins, 2016, Astro. Nach., 338, 269
Buisson, Lohfink, Alston & Fabian, 2016, MNRAS, 464, 3194
Vaughan, Uttley, Markowitz, Huppenkothen, Middleton, Alston, Scargle & Farr, 2016, MNRAS, 461, 3145
Kara, Alston, Fabian, Cackett, Uttley, Reynolds & Zoghbi, 2016, MNRAS, 462, 511

Alston

, Fabian, Markeviciute, Parker, Middleton & Kara, 2016, Astro. Nach., 337, 417
Kara, Alston & Fabian, 2016, Astro. Nach., 337, 473
Lohfink, Reynolds, Pinto, Alston, Boggs, Christensen, Craig, Fabian, Hailey, Harrison, Kara,
Matt, Parker, Stern, Walton & Zhang, 2016, ApJ, 821, 11
Parker, Tomsick, Miller, Yamaoka, Lohfink, Nowak, Fabian, Alston, Boggs, Christensen, Craig, Fuerst, Gandhi, Grefenstette, Grinberg, Hailey, Harrison, Kara, King, Stern, Walton, Wilms & Zhang, 2015, ApJ, 808, 9

Alston

, Parker, Markeviciute, Fabian, Middleton, Lohfink, Kara & Pinto, 2015, MNRAS, 449, 467
Parker, Fabian, Matt, Koljonen, Kara, Alston, Walton, Marinucci, Brenneman & Risaliti, 2015, MNRAS, 447, 72
Lobban, Alston & Vaughan, 2014, MNRAS, 445, 3229

Alston

, Markevičiūtė, Kara, Fabian & Middleton, 2014, MNRAS, 445, 16
Kara, Fabian, Marinucci, Matt, Parker, Alston, Brenneman, Cackett & Miniutti, 2014, MNRAS, 445, 56
Dutson, Edge, Hinton, Hogan, Gurwell & Alston, 2014, MNRAS, 442, 2048

Alston

, Done & Vaughan, 2014, MNRAS, 439, 1548

Alston

, Vaughan & Uttley, 2013, MNRAS, 435, 1511

Alston

, Vaughan & Uttley, 2013, MNRAS, 429, 75
Curriculum Vitae
Download PDF